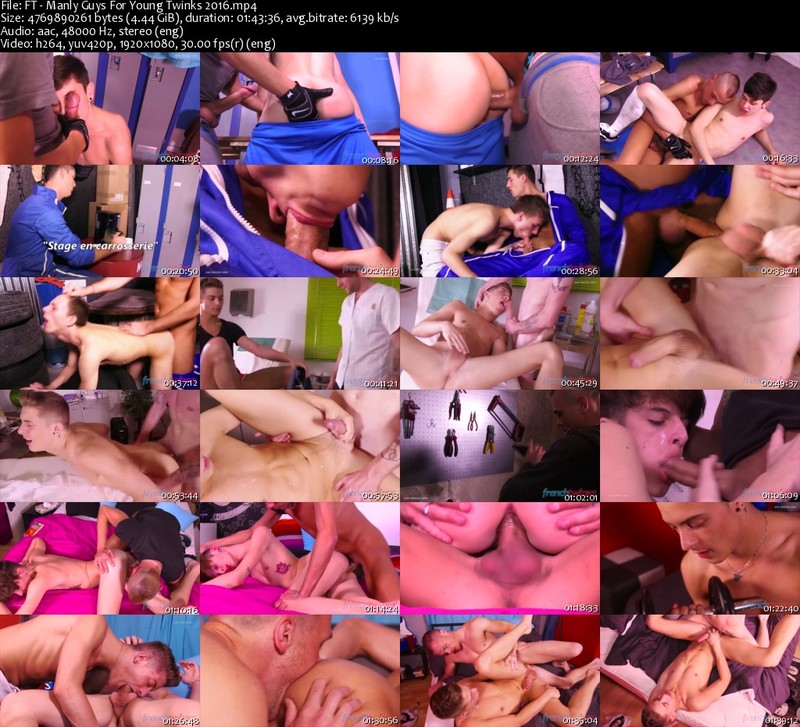 Studio Name: FrenchTwinks
Stars: Xavier, Julien, Arthur, Theo Ford, Camille Kenzo, Steph Killer, Chris Loan, Xavier Sibley
Categories: Euro, International, Twink, Anal, Safe Sex, High Definition
Description: After his team lost, the young Xavier was yelled at in the locker room by his coach, who is played by Steph Killer, and will only been forgiven after he is cornered into a violent sexual performance. The two young twinks were playing peacefully until a fight breaks out between them. There's all of a sudden whipped cream everywhere, and the fight will be resolved with some deepthroat and a final facial cumshot. Julien called up a handyman, who he knows intimately, to come along to hang his pictures on the wall. Soon after Steph had arrived, the twink realised he had the hots for him and was thinking about the size of his dick. It's what he wants, and he will get it! The young Camille, who decided to get himself beefed up a bit, is coached by his mate, Chris, a handsome virile man. During the workout, as he sweating more and more, the temperature is rising and the two athletes will soon start to kiss with power and passion. Camille consults the handsome doctor, Guillaume, to ensure that his penis piercing is not infected. But this is of course an excuse to get fucked on the examination table and he will not regret it.
Size: 4.44 GB
RAPiDGATOR Part 1
RAPiDGATOR Part 2
RAPiDGATOR Part 3
(Visited 63 times, 1 visits today)